The Business Management Research Conference (BMRC
The Business Management Research Conference (BMRC)
This conference is launched to meet the following objectives: 
To promote the academic center's forum for disseminating the academic works of national business management.  

To promote the development of research contributing to innovative business management and the application of business management knowledge for further management in multiple businesses in Thailand. 

To create an opportunity to build the networks, integrate the research, and exchange knowledge, vision and research experience related to management in a wide variety of business settings.
By
Faculty of Business Administration, Chiang Mai University
Registration Guideline / Submissions

Payment by a wire transfer to Siam Commercial Bank.

Account No. 667-413691-2, Account Name: BMRC & I- BMRC

Registration and payment notification through the link below. 

Officials proof and inform the account to access the system.

Logging-In to submit the articles for consideration. 

Receiving the evaluation results for further corrections. 

Preparation for article presentation.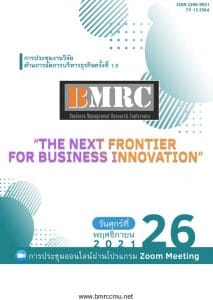 Article Format
Heading (Cordia New 16"), Body (Cordia New 14")

Abstract not longer than one page of A4 or 500 words

Article not exceeding 15 pages
Research and International Affairs, Chiang Mai University Business School
239 Huaykeaw Rd., Suthep, Mueang, Chiangmai 50200