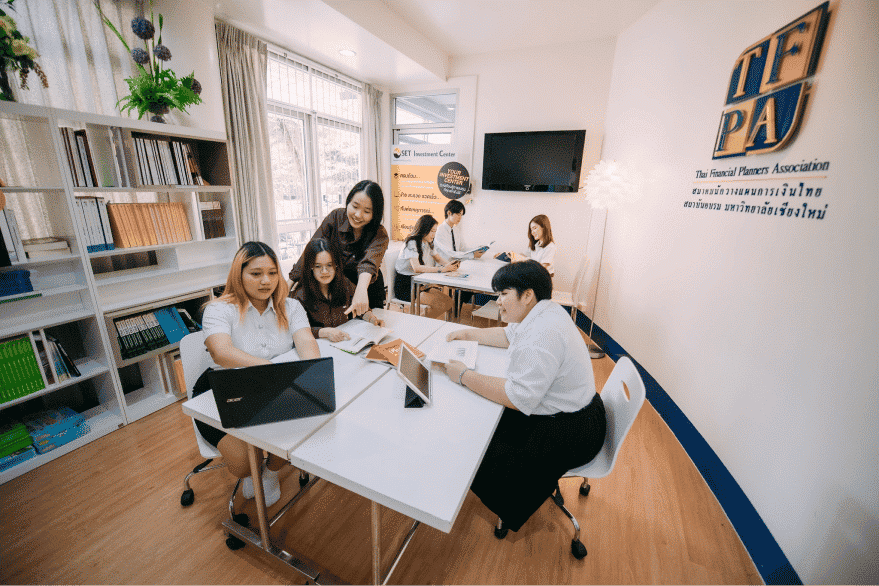 Program
Thai
หลักสูตรบริหารธุรกิจบัณฑิต
Bachelor of Business Administration Program
Degree and Field of Study
Thai
บริหารธุรกิจบัณฑิต (บธ.บ.)
Bachelor of Business Administration (B.B.A.)
Program Philosophy
The Bachelor of Business Administration Program aims to create graduates who cultivate knowledge and expertise in business, including finance, marketing, and management and entrepreneurship. Besides having trained with internationally accepted business knowledge, our graduates will be able lead business organizations in various contexts. Furthermore, they will be proficient in information technologies, language efficiency, and analyzing and synthesizing relevant knowledge to solve business problems or economic crises. Our graduates will be able to integrate a broad range of expertise, have an ability and passion for learning, thinking positively. They will be creative thinkers, have good self-esteem, and understand and embrace Thai context. They will have a perspective of the greater good and a volunteer spirit and maintain good morals and ethics.
Program Objectives
Graduates will:
pertain solid and up-to-date global business knowledge that is applicable to Thai society. 

be capable of putting knowledge into practice by managing an organization efficiently, applying proper information technologies to business, and communicating effectively. 

have analytical and problem-solving skills.

be a knowledgeable person who lives a good-quality life, and can use one's knowledge to solve problems in an integrative manner. 

be a person with kindness, morals, ethics, and a volunteer spirit. 
Required Credits
Bachelor of Business Administration 2020 Program (138 Credits) 
Program Duration
4-Year bachelor's degree

 Students are required to select subjects of specialization at the end of the 2

nd

semester of 1

st

year
Class Hours
Regular Program
Monday – Friday (8:00 – 16:30)
Twilight Program 
Monday – Friday (16.30 – 19:30)

Saturday (9:00 – 16:00) 
Applicant Qualification
Year 12 / secondary qualifications or equivalent, and complied with the university regulations

Passed the selection process according to the criteria set by the faculty
Career Opportunities
An entrepreneur 

Join private/ public sectors and work in various areas, such as human resources, logistics, import/export, strategic planning, information systems, data analytics, business development, and more.
Bachelor of Business Administration
Program in Management